AS IS TRADITIONAL DURING DECEMBER, MY THOUGHTS HAVE BEEN FLITTING BETWEEN THOSE INVOLVING AMBITIOUS CHRISTMAS PLANS AND THOSE INVOLVING CRAMMING ALL AS YET UNFULFILLED 2017 WORK GOALS INTO WHAT REMAINS OF THE YEAR.
Ideally, I'd like to find the kind of gifts that make the people I care about think: 'My word, she knows me better than I know myself!' For this plan to work, I simply need to stumble upon the gift that the intended recipient most wants, but somehow has not yet stumbled upon themselves. And then wrap it with the kind of finesse that suggests that the hours spent providing a free gift wrapping service as the 'Christmas girl' at the local fragrance counter in my youth were not wasted. All sounds straightforward enough.
Except that with the end of the year fast approaching, I can't help but look at all of my outstanding work goals and think, wouldn't I feel better If I just tackled them all, all at once, right now? And so begins the annual race to 'clear my desk' in time for the holidays. Soon the mission to get more stuff done will meet the mission to spend more time with the people I care about and make plans with the friends I haven't seen as much as I would've liked to throughout the year. But that's OK, because I still have a matter of days left in which to become a present savant and achieve all of my goals, while working more, yet making time for the people I haven't spent a lot of time with throughout the year due to, erm, work.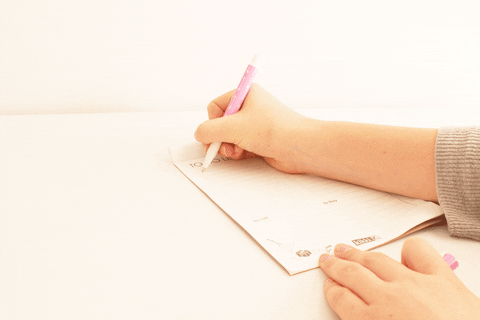 Once I've given these competing goals time to really percolate, I tend to find that this is the perfect point at which to throw a random, unrelated goal into the mix. Something like: Couldn't 2017 be the year in which I finally send everyone a really thoughtful, highly personalised card with a meaningful message? Or ice said messages onto biscuits? Or master calligraphy in a bid to up my card / biscuit game?
All of which probably sounds like a walk in the park if you're cooking Christmas dinner this year, or hosting a big family gathering, or covering lots of miles to spend time with everyone you care about. Whatever your plans are, I'm guessing there's a decent chance that you've also been amassing some serious pre-Christmas to do lists, and feeling some kind of end-of-year pressure.
But really, for all the prep and planning that goes into Christmas, there'll be so many people you make smile next month without even trying. Maybe you'll take a moment to be nice to someone who's working in retail or hospitality at the exact moment they need a boost. Or perhaps you'll give a friend or relative who's been missing you an enormous hug, or maybe you'll just make a stranger laugh with your festive jumper.
However it happens, somewhere along the way, you'll make a positive difference just by showing up. And even if, like me, you haven't tackled every one of your goals just yet, you can keep on making people smile while you chip away at them. In fact you've just made me smile simply by reading this blog all the way to the end (even if you've only done so in a bid to avoid facing your to do lists!) So thank you ever so much for reading. Here's to taking the pressure off this December!
For a complete list of His & Hers blogs, please visit our blog page.
Main image courtesy of Next.